Asset Publisher
The VDMA accompanies and supports its members on their paths to Industrie 4.0. You can find an overview of the Federation's diverse activities in the three core fields of information, knowledge transfer and networking here.
Modules for Industrie 4.0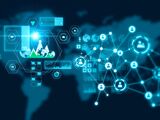 Dr. Beate Stahl
Forum Industrie 4.0 Project Management
+49 69 6603 1295
+49 69 6603 2295
beate.stahl@vdma.org
OPC UA Companion Specifications –an important prerequisite on the way to Industrie 4.0
The definition of uniform interfaces in production is a prerequisite on the way to Industrie 4.0. The VDMA is currently focusing on the interface standard OPC UA and is developing industry-specific OPC UA Companion Specifications. An OPC UA Companion Specification is an information model suitable for all manufacturers which represents the real interfaces between components, machines and systems.
Prof. Dr.-Ing. Jürgen Fleischer: Sensoren - Verbindungsglieder zwischen der analogen und digitalen Welt
Bei der Umsetzung von Industrie 4.0 spielen Sensoren eine zentrale Rolle. Die Umsetzung technologischer Innovationen wird jedoch oftmals durch die Kosten für eine geeignete Sensorik erschwert. Hier unterstützt der VDMA-Leitfaden Anwender und Hersteller von Sensorsystemen bei der Entwicklung kostengünstiger Sensorsysteme.